The quarrying of sandstone has always been of great value to the economy of the Huddersfield district. Coarse sandstone was shaped into millstones used for grinding corn. The lower part of the Upper Carboniferous has taken its name, Millstone Grit, from this industry. We have used the symbol of a millstone as the basis of our logo.
The value of the rock depends upon how it is bedded and jointed. The best stone has massive bedding, with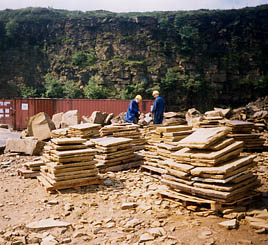 blocks 2 to 3 metres thick, and is called freestone because stone masons can work it in any direction. Sandstones in beds 30 – 50cms thick can also be used as building stone. The best local freestones are the Elland Flags, Greenmoor, Grenoside and Rough Rock sandstones. Irregularly bedded rocks are used as wall stones and rocks with bedding closer than 5cm are ideal for flags. The earliest quarries produced stone for local use only, due to the high cost of transport. The enclosure of fields in the late 18th century created a demand for stone walls.Quarrying for flagstones Much of this stone would have come from clearing the fields but small quarries would also have provided stone for local buildings and flagstones for tracks and paths. The 1854 Ordnance Survey maps show hundreds of sandstone and flag quarries, called delve-holes (or delph-holes), throughout this district.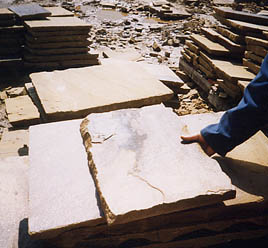 Longwood Edge probably had 2 or 3 separate companies working from the 1880s until the 1920s. Crosland Hill quarries became increasingly important in the early part of the 20th century and in 1937 Johnsons Wellfield advertised itself as having 11 different quarries that covered a large area and produced stone for a variety of different purposes. Bingley Quarry, at Holmbridge, was worked by F. Marsden and SonsSection through Low Edge quarry, Magnum for at least 20 years from 1881, and the neighbouring Alison Quarry was opened to produce stone to build walls and banks for nearby Digley dam. The Elland Flags were of such excellent quality at Fartown and Fixby, that they were quarried and mined in the 19th century as well as further north, towards Halifax. An example above shows the varied use of quarried stone obtained from the Rough Rock sequence in Low Edge Quarry, near the old hamlet of Magnum, Hade Edge.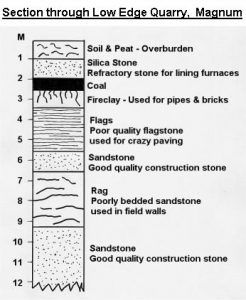 These quarries would have employed a large number of quarrymen with specific tasks. Delvers, who started the process, were skilled in removing stone from the various beds. Under their direction labourers used picks, wedges and crowbars in the quarry. Large blocks were split using plugs and feathers. A straight line (or race) of 60cm deep holes was drilled into the rock. Feathers are metal flanges which fit into the hole, and then a metal wedge (or plug) was gradually knocked into each hole so that the pairs of feathers were widened by a series of mallet blows. The rock then split along the line of tension. This process is still in use today.
Inserting plugs to split rock Splitting Rough Rock at Johnsons Wellfield Quarry Drilling holes to split rock DelversSteam cranes, often fired by local coal from thin coal seams nearby, were used to lift large blocks of stone. Simple devices have been used, since the Roman era, to hold and lift stone blocks. A lewis has a pair of half-round legs that grip the sides of a drilled hole. When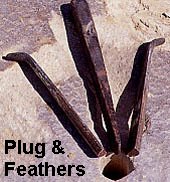 the lifting ring is raised, an angled pull on each leg creates a secure hold. Iron lifting tongs, like over- size scissors and chain dogs that are J-shaped hooks joined by a length of chain, grip a stone block using dog holes roughly chiselled into two opposite faces. In Huddersfield town centre, between the George Hotel and the railway bridge, the retaining wall is pockmarked with dog-holes. These lifting devices enabled the masons to place any stone block directly into its mortar bed, with the underside clear of ropes and slings. The lewis, tongs and chain dogs are still used by masons today to handle masonry blocks.
Banker (or bench) masons worked at the quarries and shaped the stone as required. Most building stone was pitched with pitching chisels and a hammer that left a squared-off block with a rough surface. Better quality stone was dressed and finished (with a fine chisel and mallet) like ashlar, with tooling marks (on average 8 per 25mm) leaving fine lines on the stone.

Dressers, who were skilled stone masons, shaped and dressed stone to produce sills, headers and lintels. The finest sandstone was cut by sawyers operating sawing frames. Next, planers finished the stone to produce ashlar blocks. Gate posts, wall-stone, lintels and mullions often have a variety of tooled surfaces, devised by the masons for decoration.

Quarrymen sometimes came across marestones which are large balls of soft yellow, brown or red sand and clay. Sandstone containing marestone was worthless, but the marestone itself could be manufactured into donkey blocks which were used to colour the edges of doorsteps. Marestone from Cook's Study quarry above Holmfirth was cut and used locally or sent to Lancashire to be mixed with cement to make donkeystone blocks.

With increasing use of artificial building materials demand for stone decreased, resulting in smaller quarries closing in the 1930s and 1940s. However quarries are still working on Cartworth Moor, Crosland Hill and in the Shepley area.
Ganister, a pure quartz-rich sandstone, has also been important in this district. It was used to make refractory bricks for lining steel furnaces and was widely quarried. The Chain quarries between Marsden and Meltham, and the large Royd Edge Quarry above Meltham, produced ganister for the Meltham Fire Clay Company. The ganister was ground down for fire-bricks at the company's works near the old Meltham railway station. It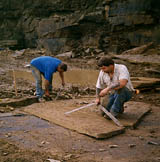 employed 300 people but closed in the 1970s, when the easily-worked ganister in the quarries became exhausted.
Brick manufacturers and many collieries exploited the Coal Measure shales associated with the coal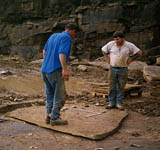 seams, to make bricks for their own use and local sale. The 1884 Directory for Huddersfield lists brick makers at Lower Cumberworth, Fieldhouse (Fartown), Thurstonland, Kilner Bank (Dalton) and Hazelhead (Crow Edge). By 1909 the most important brick manufacturer was the Huddersfield Brick and Tile Co. at Birchencliffe and Hillhouse Lane, Fartown (where they used glacial clay). Elliott's Bricks of Kirkheaton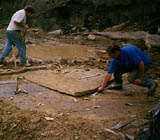 made high quality domestic bricks in a variety of colours and finishes, using the shales below the Grenoside sandstones mixed with other shales from various quarries. Today, shales are extracted at Crow Edge and Shepley for pipe manufacture by Hepworth plc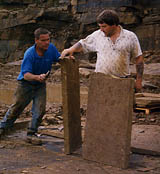 . We would like thank Johnsons Wellfield Quarries for the guided tours, demonstrations and opportunities to take the photographs used in this section.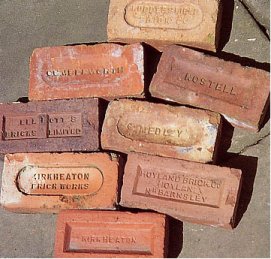 For more information about the Rocks and Landscapes of Huddersfield see our other pages on Local Geology and our guide to the Geology of Huddersfield. Publications